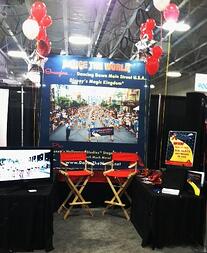 As some of you may know, Dance The World just finished up attending all three shows with United Dance Merchants of America. It was a fun and exciting time for us in Georgia, New Jersey and Illinois, where we were given the opportunity to meet dance teachers and studio owners from all over the country!
We were honored to be able to spread the word about our experience and we wanted to give back to those who took the time to meet with us! For those of you who stopped by our booths, thank you! And a special congratulations to Nicole from Elite Dance Academy in Buford, GA. Nicole will be recieving 2 free airfare tickets to the destination of her choice within the continental United States!
Again, we would like to extend a big thank you to all of those who came to visit us at UDMA. We look forward to hopefully seeing you at Dance The World 2015, 2016 and beyond!
If you were unable to attend and would like more information, contact us today!
---