From all of us at World Class Vacations, we would like to thank you for attending our Cook Around The World event this year! We loved meeting all school administrators, teachers, chaperones, and students. We had a great time and we hope you had a fantastic experience as well!
Hospitality Experience
Our event kicked off with our Hospitality Experience at Disney's Animal Kingdom Lodge and Disney's Polynesian Village Resort. The students and chaperones got to experience the beauty these resorts encompass and speak to Disney leadership in the Concierge, Recreation, and Front of House areas. Each student received a take away from these resorts. Students at Disney's Polynesian Village Resort also learned about Polynesian culture and customs, and students at Disney's Animal Kingdom Lodge celebrated Africa Day and discussed cultural similarities and differences with a cultural representative.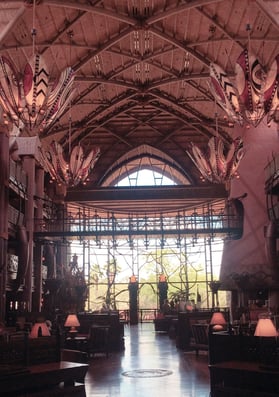 Culinary Improv Competition
Saturday morning began with a few Behind the Seeds tours for our groups. After learning about hydroponics and the Disney greenhouses at The Land in Epcot®, our Culinary Improv and competition commenced! After each group received their own Cook Around The World chef coat, our schools were introduced to Chef Seltzer and Chef Fridrich from the University of Central Florida - Rosen College of Hospitality Management and Chef Denlinger from Valencia College. Last but certainly not least, our head Celebrity Chef was the one and only Chef Aarón Sánchez! Chef Sánchez was so inspiring, fun, and helpful toward the students competing. Chef Sánchez has appeared on Masterchef on FOX®, Chopped, and Chopped Junior, and he is also the owner of the Johnny Sánchez restaurant in New Orleans.
While at the Culinary Improv Competition, students had to work with their teammates to create their own recipes for side dishes and main dishes. Each team was also required to decorate one dozen cupcakes that complemented their region and team. After 90 minutes of preparing their dishes, each team presented one side dish, one main dish, and one cupcake to be judged. Students then had the opportunity to walk around and sample what other teams created.
Awards Ceremony and International Gala Dinner
Sunday morning began with our awards ceremony in Epcot® followed by a keynote speech and Q&A with Aarón Sánchez. Students were so inspired by what he had to say about his journey of becoming a celebrity chef and his career today. Each group had the opportunity to take group pictures with Chef Sánchez as well!
Our event ended with our International Gala Dinner where students also heard from Joseph Gardner, the Senior Operations Director for Walt Disney World Event Operations. Students and chaperones were also able to chat with representatives from the University of Central Florida – Rosen College of Hospitality Management, Valencia College, and Disney leadership regarding the Disney College Program. Valuable career path information was provided to students interested in hospitality and culinary careers. Following the Gala dinner, we ended the night with group pictures with Chef Mickey Mouse and a private viewing of IllumiNations: Reflections of Earth fireworks. What a fantastic way to celebrate the conclusion of Cook Around The World!
Contact us about our 2019 event by clicking the button below! Reserve your space now – our 2019 event will sell out! No payments due until November, but we do offer an early booking incentive for deposits received by June 1, 2018.