Thank you for attending Dance The World and World Dance Competition this summer at the Walt Disney World® Resort! It was an incredible three weeks at the most magical place on Earth! We hope we were able to make all of your dreams come true!
Dance The World
We kicked off Dance The World with parade rehearsals! For the first time, dance studios from various countries around the world came together and performed the parade routine as one big group! During this time dance studios were able to take photos, mingle with one another, and even dance together. During celebrity week performers were accompanied by Emma Slater and Sasha Farber from Dancing with the Stars for warmups before rehearsal.
The most exciting part of Dance The World came next! Dance studios prepare months in advance to parade at the Walt Disney World® Resort! Performers either paraded down the magical street of Main Street, U.S.A in Magic Kingdom® Park or took a journey through Epcot® to parade in front of Spaceship Earth!
Each dance studio showcased their very own choreography and unique style of dance during stage shows. Families and friends saw each performer shine on the World ShowPlace stage in Epcot®.
Participants gathered, celebrated, and danced the night away! Those in attendance were severed a buffet-style dinner, ate delicious desserts, and were joined by Mickey and Friends! Emma and Sasha gave the crowd (during celebrity week) an outstanding performance and blew everyone away!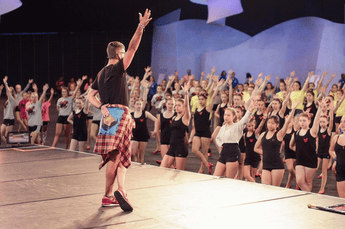 World Dance Competition
World Dance Competition also began with rehearsals and then parades. After this, it was time for a fierce competition! Dance studios competed to be in the top three of their category. Every dance studio did a great job of showing off their skill set to the highest degree during the competition. This year's panel of judges included Emma Slater and Sasha Farber (Dancing with the Stars Professional Dancers), Geo Hubela (Celebrity Choreographer), and David Houde (Disney Entertainment Manager).
Performers had the option to take masterclass workshops with some of the most talented dancers in the industry and their competition judges Geo Hubela, Emma Slater and Sasha Farber. Geo has danced with some of the biggest stars! Geo has danced alongside Jennifer Lopez, Will Smith, P!NK, Britney Spears, 'NSYNC, Jessica Simpson and the King of Pop, Michael Jackson. Dancers learned a fun and upbeat hip-hop routine during the workshop! Performers also had the option to take a masterclass workshop with Emma Slater and Sasha Farber, the celebrity judges, from Dancing with the Stars on ABC! The Dancing with the Stars pros choreographed a cha-cha routine for the performers.
Performers and their friends and family celebrated at the Gala Dinner and Award Ceremony! Dance studios gathered for one last hoorah as World Dance Competition came to a conclusion. During this time the winners were announced and presented with their awards. Emma and Sasha gave a stellar performance showed attendees exactly how to jive.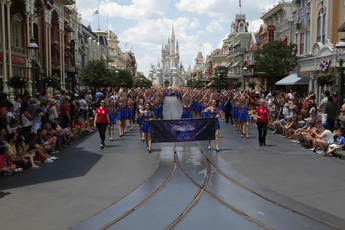 Thank you again for joining Dance The World and World Dance Competition 2019! Our staff will cherish these memories forever and hope you will too!